Bangalore Live Highlights: The Health Ministry on Thursday confirmed that two cases of Omicron Covid variant have been found in Karnataka. While one case is of a male aged 46, the other is of a male aged 66.
The health ministry has been advising states and Union territories to keep a strict vigil and undertake surveillance of international passengers coming to the country through various airports.
Meanwhile, Karnataka Chief Minister Basavaraj S Bommai on Thursday met Union Health Minister Mansukh Mandaviya and sought advice and approval from the Centre on the possibility of administering booster doses to frontline workers in the state.
Bommai, who reached New Delhi on Thursday to attend a private event, also met Jal Shakti Minister Gajendra Singh Shekhawat as well as Law and Justice Minister Kiren Rijiju in Parliament House. Member of Parliament from Haveri constituency Shivakumar Udasi and state principal secretary Manjunath Prasad were also present during the meeting.
A 46-year-old doctor at a private hospital in Bengaluru with no travel history and a 66-year-old South African national, who returned home last week, have been identified as the first two persons in whom the new Sars-Cov-2 variant, Omicron, has been detected in India. Both the cases were reported in Karnataka. Click here to read the full report.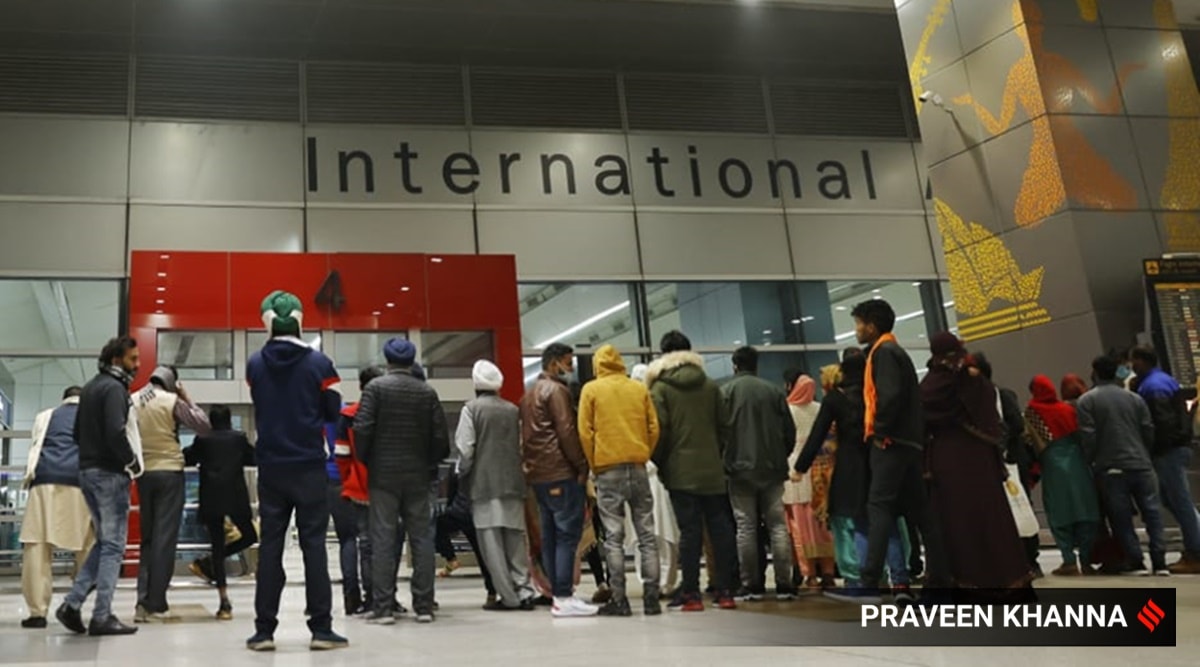 With both the Karnataka government and the Centre announcing a set of guidelines each for international fliers, the authorities at the Bengaluru airport and the passengers found themselves in the middle of chaos from Tuesday midnight.
In an email communication to The Indian Express, the airport authorities said it is abiding by the new guidelines from Wednesday.

Officials informed around 1,600 international passengers arrived in eight flights since Tuesday midnight and of them, as many as 1,191 were from the at-risk countries. Meanwhile, the remaining 409 were from other nations or domestic flyers who had flown in from outside the country to other airports in India and then reached Bengaluru airport. More details here.


The Karnataka State Pollution Control Board (KSPCB) has directed Karnataka State Highways Improvement Project (KSHIP), Karnataka Rural Infrastructure Development Limited (KRIDIL) and Karnataka Public Works Department (KPWD) to mandatorily use waste plastics in road construction as per the Indian Road Congress (IRC) guidelines. More details here.
The Mangaluru Police Wednesday arrested a man for sexually harassing his minor daughter. City police commissioner N Shashi Kumar said the arrested person had earlier been booked for beating up his mother. According to police, the accused used to harass his wife and minor daughter, regularly after consuming alcohol.
"When his wife found that the accused used to harass his daughter sexually, she came to the police station and lodged a complaint against her husband," a police officer told The Indian Express on Thursday. The girl is undergoing treatment in a local hospital.
Two cases of Omicron variant have been detected through INSACOG in Karnataka, the Union Health Minister said on Thursday, while asking people not to panic but follow Covid-appropriate behaviour and get vaccinated without delay.
Here's what we know so far:
*Both cases of Omicron Covid variant have been found in Karnataka.
*While one case is of a male aged 46, the other is of a male aged 66.
*No severe symptoms have been reported in both patients.
*Govt says all primary and secondary contacts of the two patients were traced and were being tested.
*The Health Ministry has urged people not to panic and follow Covid-appropriate behaviour and avoid large gatherings.
*Officials also said that an increase in COVID-19 vaccine uptake was the need of the hour.
*The government said that that 373 cases of Omicron variant of SARS-CoV-2 have been detected in 29 nations so far and India was monitoring the situation.
"We need not panic about Omicron detection but awareness is absolutely essential. Follow Covid-appropriate behaviour and avoid gatherings," the Health Ministry official said during the media briefing on Thursday.
"It is too early to assess whether Omicron causes more severe infection or less compared to variants, including Delta," the official told the press conference quoting the World Health Organisation which has designated the new variant as a 'variant of concern'. (PTI)
The Karnataka Health Department has said that following the detection of the two Omicron cases, all their primary and secondary contacts were traced in time and are kept under home quarantine.
#Karnataka Health Dept confirms all primary and secondary contacts of 2 people detected with #Omicron have been traced and are under home quarantine. "Both patients are asymptomatic now." @IndianExpress
"No severe symptoms of the Omicron variant of Covid-19 reported so far," Joint Secretary Lav Agarwal said during a media briefing.
"All Omicron related cases are found to have mild symptoms so far…In all such cases in the country and across the world so far, no severe symptom has been noted. WHO has said that its emerging evidence is being studied," he added.
All #Omicron related cases are found to have mild symptoms so far…In all such cases in the country and across the world so far, no severe symptom has been noted. WHO has said that its emerging evidence is being studied: Lav Agarwal, Joint Secretary, Union Health Ministry pic.twitter.com/7cfCAwHRt0
Union Health Ministry on Thursday said that two cases of Omicron variant have been discovered in the country. Both cases are in Karnataka.
Breaking : @MoHFW_INDIA confirms that 2 cases of Omicron variant have been found positive in Karnataka @IndianExpress
Seven members of a gang have been arrested for allegedly robbing over 5,500 grams of gold biscuits worth over Rs 2.5 crore from a bullion trader in Cubbonpet, the police said. A special team, which was formed to trace and arrest the accused, managed to seize the gold biscuits from them.
The accused were identified as Mohammad Farhan (23) of Sarvajnanagar, Mohammed Hussain (35) of Nagawara Main Road, Mohammed Arif (34) and Anjum (39), both residents of Venkateshapura, Shahid Ahmed (24) of Kushalanagar, Umesh (54) of RT Nagar, and Suhail Baig (24) of Govindapura. More details here.
Karnataka Chief Minister Basavaraj Bommai Thursday met Union Health minister Mansukh Mandaviya in Delhi.
#Karnataka CM @BSBommai meets Union Health Minister @mansukhmandviya in Delhi. Seeks advice and approval from Centre on possibilities of administering booster dose of #CovidVaccine to health and frontline workers in the state. #Omicron concerns were also discussed. @IndianExpress pic.twitter.com/PVrk0OFAUr

The CM requested the Health Minister, as recommended by the state Covid-19 Technical Advisory Committee, to explore possibilities if a booster dose of the vaccine against the infection can be made available to health and frontline workers in the state.
An official response on the same is awaited.
Karnataka High Court on Wednesday directed the National Board for Wildlife Wildlife (NBWL) to assess the impact on wildlife due to the proposed broad-gauge railway line project between Hubballi and Ankola, for which 594.64 hectares of forest land is set to be diverted.
A division bench, comprising Chief Justice Ritu Raj Awasthi and Justice Sachin Shankar Magadum, passed directions to the NBWL while hearing a batch of petitions challenging the wildlife clearance for the project. The bench heard the public interest litigations (PILs) that contested clearance for the 168-km new broad-gauge railway line in the 14th meeting of the State Board for Wildlife (SBWL) in March 2020. (Read more)
A few days after the Karnataka government made it mandatory for all international passengers arriving at airports and seaports in the state to undergo RT-PCR testing after cases of the Omicron variant were identified in a few countries, the state government has rolled back the decision to "strictly abide by the testing protocol mandated by the Centre."
Principal Secretary (Health and Family Welfare) T K Anil Kumar told The Indian Express that only 2 per cent of the international passengers arriving from non-risk countries will be subjected to RT-PCR testing on arrival. "Two per cent of travellers, from countries excluding those listed as 'high-risk' where Omicron cases have been confirmed, in each flight shall be identified by the concerned airlines for RT-PCR testing. We are strictly abiding by the guidelines issued by the Union Health Ministry," he explained.
However, he clarified that all travellers from Europe (including the UK) and ten other countries (South Africa, Brazil, Botswana, China, Mauritius, New Zealand, Zimbabwe, Singapore, Hong Kong, and Israel) are being subjected to RT-PCR testing at all international entry points in Karnataka, as on December 1. (Read more)
With the Covid-19 cluster identified at SDM Medical College and Hospital (SDMCH) in Karnataka's Dharwad exceeding 300 cases, local authorities have stepped up precautionary measures to ensure the situation is contained at all levels in the twin cities of Hubballi-Dharwad.
Hubballi Urban tahsildar Shashidhar Madyal issued a circular to all schools and colleges, asking students and their parents to subject themselves to RT-PCR Covid-19 testing if they had come in contact with medical students, doctors or any staff member of the medical college and hospital.
The new instruction came in the wake of a student of GV Joshi Rotary School in Hubballi contracting the infection on Wednesday. The patient was later found to be a primary contact of a student from SDMCH. (Read more)
The Karnataka government's decision to hike fees at state-run engineering colleges by Rs 10,000 from the ongoing academic year, 2021-22, has drawn criticism from students who have questioned the "untimely move", citing the financial crisis caused by Covid-19 and related restrictions.
A recent note issued by the Karnataka Examinations Authority (KEA) mentioned an additional Rs 10,000 as "other fees" in the updated fee structure for those pursuing engineering courses in state-run colleges. With this, the total fees paid by such students has risen to Rs 33,810. (Read more)
The ESIC has ordered Dr Jeetendra Kumar J M, Director Professor of General Medicine and dean in-charge of the ESI hospital in Bengaluru to handover the charge to Dr Renuka Ramaiah, Director Professor and report to ESIC Headquarters.
Following to the incident of two bodies abandoned for 16 months in ESIC hospital in #Bengaluru
Dr Jeetendra Kumar J M, Dean, in charge in the ESIC MC&PGIMSR is directed to handover the charge to Dr Renuka Ramaiah, Director Professor. @IndianExpress @IEBengaluru pic.twitter.com/nsoSLzjlvl

The order comes days after bodies of two Covid-19 victims were found in an old mortuary building of the hospital around 500 days after their deaths. The bodies had been kept in the cold storage of the mortuary a year ago and a new mortuary building had started functioning in the meantime. "On Saturday, when the housekeeping staff went to clean the old mortuary, they sensed a foul smell and later discovered these two bodies," said a senior police officer.
The transfer order came on Wednesday. Dr Renuka has been directed to report on Thursday. The letter says that it has been done in the interest of public.
Antrix Corporation, a commercial arm of Indian Space Research Organisation (ISRO), has stated in a filing before a US federal court that it has very few assets in the US even as foreign investors in a Bengaluru-based startup Devas Multimedia moved the US federal court to allow nationwide discovery of US assets of Antrix.
Three Mauritius-based investors in Devas Multimedia are attempting to identify assets of Antrix for attachment to recover $111 million compensation over a failed 2005 Devas-Antrix satellite deal. (Read more)
Karnataka Forest Department has deployed a sniffer dog to detect wildlife crimes in Biligiri Ranganathaswamy Temple (BRT) Tiger Reserve in Chamarajanagar. The German Shepherd named Jhansi underwent a seven-month training at Chandigarh by the Indo-Tibetan Border Police Force.
The Deputy Conservator of Forest and BRT Tiger Reserve project director G Santhosh Kumar said the dog was deployed with support from NGO TRAFFIC and the World Wildlife Fund (WWF) which started the wildlife sniffer and tracker dog training programme in 2008. Since then, the sniffer dogs trained in detecting wildlife crimes have been deployed by forest departments across the country. (Read more)
Serum Institute of India has sought from India's drug regulator approval for Covishield as a booster dose citing adequate stock of the vaccine in the country and a demand for a booster shot due to the emergence of new coronavirus variants, official sources said.
In an application to the Drugs Controller General of India (DCGI), Prakash Kumar Singh, the Director, Government and Regulatory Affairs at Serum Institute of India (SII) cited that the UK's Medicines and Healthcare products Regulatory Agency has already approved the booster dose of AstraZeneca ChAdOx1 nCoV-19 vaccine, they said.
Recently, Kerala, Rajasthan, Karnataka and Chhattisgarh have urged the Centre to decide on allowing booster doses of Covid-19 vaccine diseased amid concerns raised by 'Omicron', the new variant of SARS-CoV-2. (PTI)
Karnataka on Wednesday logged 322 new cases of Covid19 and two deaths, taking the total number of infections to 29,96,470 and death toll to 38,213, the health department said.
The day also saw 162 discharges, pushing the total number of recoveries to 29,51,654. Of the new cases, 165 were from Bengaluru Urban, as the city saw 72 discharges and 1 death.
Total number of active cases in the state is at 6,574. (PTI)
Here are a few contacts that might come in handy for you in emergency situations:
COVID-19 related queries / emergencies / clarifications: 104 (toll free); +91-80-4684-8600/6669-2000 | Home Quarantine-related queries: Telegram messenger/WhatsApp – +91 97777 77684, Voice call – 080 45451111 | BBMP control room: 080-22221188 | In case of power disruptions, contact BESCOM: 1912. If the water supply is hit in your area, contact BWSSB: 1916