Bengaluru News Highlights: BBMP officials resumed the encroachment eviction drive at Greenwood Regency in Bengaluru early on Wednesday. They have broken slabs which were covering a stormwater drain that connects to the Saul kere lake.
Meanwhile, a Supreme Court bench comprising Justices Hemant Gupta and Sudhanshu Dhulia is hearing petitions challenging the ban on wearing hijab in educational institutions in Karnataka. Solicitor General Tushar Mehta, during the hearing, said that India is a secular nation. Even in countries that are constitutionally Islamic like Iran, not all women are wearing hijab. They are fighting against it. He appeared for the respondent and submitted the Karnataka government's order recommending that all students will wear the prescribed uniform.
While fissures have come to the fore in the Karnataka unit of Opposition Congress months before the state is scheduled to go for Assembly elections, all may not be well even in ruling BJP in the state, it appears. On Monday, former state minister and senior BJP leader K S Eshwarappa expressed disappointment at not being reinducted in the Cabinet and said he is not attending the ongoing Assembly session in protest.

The staff of Bangalore Metropolitan Transport Corporation (BMTC) has intensified checking of buses operated in and around Bangalore City to detect ticketless passengers.
During the Month of August 2022 the staff checked 18,972 trips and penalised 2625 passengers and collected Rs.4,50,270/- as penalty. 1430 cases against conductors were registered.
During the aforesaid period the checking staff had penalised 119 male passengers occupying seats exclusively reserved for lady passengers and imposed fine.
The Karnataka delegation led by Dr. Murugesh R. Nirani visited the United States to attract investments and extend a formal invitation to the companies to participate in the upcoming Global Investors Meet scheduled on November 2,3 & 4 in Bengaluru Palace.
The state delegation comprising Minister Nirani, Dr. E.V. Ramana Reddy, Additional Chief Secretary to Government, Commerce, and Industries, and Commissioner for Industrial Development, Gunjan Krishna met the representatives of many companies as part of the international roadshow for the Global Investors 'Meet.
The Minister presented the industry-friendly policies of the state and showcased Karnataka as an ideal destination for US manufacturing companies.
Lockheed Martin
The Minister also met Dave Sutton, Robert Garner, Mark Riddle, and Doug Haskins of Lockheed Martin in Washington DC and discussed with the aviation major setting up an R&D center, Skilling Institute, and Sikorsky helicopter manufacturing in Karnataka.
Collin's Aerospace
Meeting with Dean Halter, Paul Weedon, Maya Raichelston, and Kyle Ballard of Raytheon Group, Collin's Aerospace, and Pratt and Whitney on further expanding their presence in Karnataka. These companies have already proposed to invest nearly Rs 1,500 crore.
Chief Minister Basavaraj Bommai termed Pay CM campaign as a conspiracy to tarnish his and Karnataka's reputation. Officers concerned have been asked to file a case and identify those behind this campaign.
Replying to a question on the Congress Party behind this campaign, the CM said this is a systematic campaign not only to tarnish the State's image but also of his image. Instructions have been given to the authorities concerned to immediately book a case.
"Even we know how to do such baseless campaigns on social media. But people knew it was a big lie. There is no value in it. The government will make efforts to put an end to any attempts made to tarnish the image of Karnataka".
A team of the National Investigation Agency (NIA) has arrived here and joined the Karnataka police to probe the Islamic State-linked terror module busted two days ago.
Syed Yasin (21), an electrical engineer from Shivamogga, Maaz Muneer Ahmed (22), an engineering student from Mangaluru, and Shariq (24) from Tirthahalli in Shivamogga were booked on Monday. Shariq is absconding while the other two have been remanded in police custody for seven days, Shivamogga police said.
"The NIA team has arrived to probe the IS-linked terror module which was busted on Monday," state Home Minister Araga Jnanendra told reporters here on Wednesday.
He added that two people have been arrested and they have been booked under various provisions of the Indian Penal Code and the Unlawful Activities (Prevention) Act.
"It has come to the knowledge of police that the module had prepared and carried out experimental blasts," the Home Minister added.
While probing some past incidents of violence and vandalism, which had rocked Shivamogga town, this module came to light, police said.
They added that this case has been separated from the previous cases in view of the seriousness of the matter. PTI
The Indian Council of Medical Research (ICMR) and Indian Institute of Science (IISc) have signed an MoU on September 16, 2022, to collaborate on a national initiative towards the creation of high-quality medical datasets representing India's diversity.
ICMR and IISc will develop a technology-enabled hubs-and-spokes system for collecting and curating data through institutions across the country.
ARTPARK (AI & Robotics Technology Park), a not-for-profit foundation promoted by IISc, will serve as the initiative's partner for technology development and programme management.
Posters of "PayCM' with Karnataka Chief Minister Basavaraj Bommai's photograph surfaced in parts of the city on Wednesday.
They were similar to electronic wallet Paytm. Bommai's face figures in the middle of the QR code with the message "40 % accepted here".
The development comes in the midst of an aggressive campaign against the state government by Congress, which charged it with corruption in awarding public contracts and recruitment to government jobs. Soon after the matter came to the notice of the authorities, these posters in public places were removed. (PTI)
Identifying deficiencies in the implementation of housing schemes in Karnataka, the Comptroller and Auditor General (CAG) of India has said that the Housing Department has only completed 88,395 dwelling units (DUs), against the target of 5.17 lakh for the urban poor as on March 2021, which constitutes only 17 per cent.
It also said that out of Affordable Housing in Partnership (AHP) and Beneficiary Led Individual House Construction (BLC) projects were taken up for only 5,17,531 beneficiaries out of the 13,71,592 prospective beneficiaries (38 per cent) identified through demand survey as on March 2021.
It further said that the construction of 3,28,499 DUs were yet to (March 2021) commence, indicating that achieving the mission goal of "Housing for All" by 2022 was a difficult prospect. (PTI)
The Supreme Court has begun a hearing on various pleas against the Karnataka High Court's judgment upholding the ban on hijab in educational institutes, reports law website Live Law.
The hotel industry is very important and it has a lot of scopes to grow in the tourism industry, said Chief Minister Basavaraj Bommai.
He was speaking at a function '2022 Food Awards', a presentation of the 'lifetime achievement award' and the 'upcoming women entrepreneur award', organised by Bengaluru Hoteliers Association on Tuesday.
"You will become our family members when our family is not at home. No matter how late it may be but still you serve the customers with a smile. The hotel industry faced a lot of problems during the Covid-19 pandemic but you still co-operated with the government. A big thanks for you," he added.
The Enforcement Directorate Wednesday approached the court seeking custody of the PSI scam accused. The accused are currently in judicial custody
BBMP officials resumed the encroachment eviction drive at Greenwood Regency in Bengaluru early on Wednesday.
They have broken slabs which were covering a stormwater drain that connects to the Saul kere lake.
Bengaluru city is likely to see a maximum temperature of 28 degrees Celsius and a minimum temperature of 19 degrees Celsius, according to a 9 am update from the Meteorological Centre in Bengaluru.
The city is likely to see generally cloudy sky. Light to moderate rain is also very likely.
The Bengaluru civic body continued its demolition drive against encroachments on storm water drains (SWD) in the Mahadevapura zone Tuesday. Slabs kept on the SWD near Wipro and concrete slabs on the drains inside Greenwood Residency apartment were removed by the officials.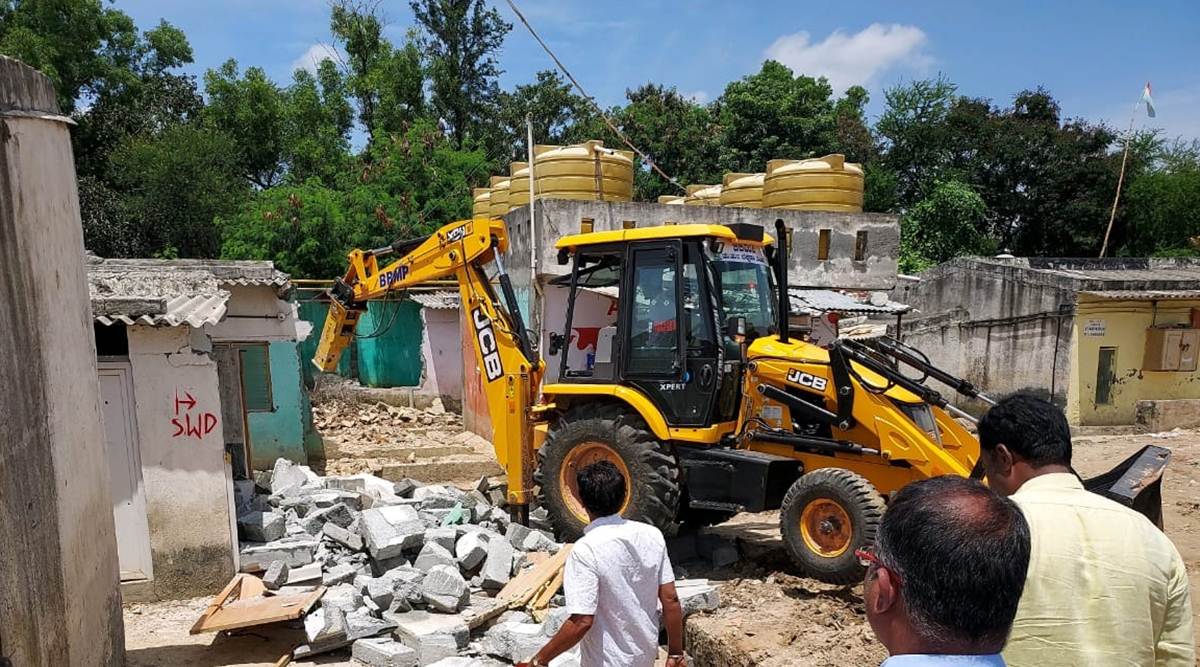 The Bruhat Bengaluru Mahanagara Palike (BBMP) in a statement added, "The slabs on an 80-metre-long drain on the east and west sides of the Bagmane Tech Park will be removed by the tech park itself." (Read more)
Former chief minister and congress leader Siddaramaiah demands government to set up judicial commission to probe Police Sub-Inspector (PSI) recruitment scam. He demanded to appoint a sitting high court judge to probe the matter.
While the India Didactics Association is hosting a three-day education fair, Didac India, starting Wednesday and the Asian Summit on Education and Skills (ASES) was held in Bengaluru Tuesday, many proposals and plans of foreign universities to come to India are not seeing the light of day, said experts.
The education fair is being held to empower and improve the quality of education through collaborations and idea exchange sessions, said officials.
While Covid-19 might be one of the factors hindering the growth of the education sector, educationists from different foreign universities and delegates from education departments of different counties point out that a lot of technical and social issues are not in favour for their India plans to take off. Read more.
Two persons have been arrested from here on terror charges, with police claiming they wanted to advance the activities of the banned Islamic State (IS).
While police sources initially said all three wanted in connection with the case have been arrested, police later clarified two have been nabbed while one was missing.
The gang members were in possession of explosives and planned to carry out blasts across the state, the police alleged.
The police registered a case on its own against Shariq, Maaz Muneer Ahmed and Syed Yasin, all of whom hail from Shivamogga, under various sections of the IPC and the Unlawful Activities Prevention Act (UAPA).
The arrested men were remanded to seven days police custody.
According to the police FIR, the gang members were planning to advance the cause of IS that was detrimental to the unity, integrity and sovereignty of India.
Home Minister Araga Jnanendra said "the trio had links with IS." "Intense probe is going on about their activities. They are from Shivamogga and Tirthahalli with links to Mangaluru," he told reporters here on Tuesday.
Police sources claimed the arrested persons had undergone terror training including carrying out blasts.
"The kingpin Yasin has been arrested and is being interrogated closely. Yasin is an electrical engineer," a source said.
Shivamogga was on the boil earlier this year when Hindutva activist Harsha was hacked to death amid the Hijab row in the state. In August, clashes broke out in the city when some right wing members put up a poster of Hindutva ideologue Vinayak Damodar Savarkar, which some Muslims had opposed.
During the clash, a 20-year-old man was stabbed and badly injured.
Jnanendra, who hails from Shivamogga district claimed one of the arrested men had links with Pakistan based terror groups. PTI
The suicide note of a man in Karnataka's Tumakuru district has revealed that he had murdered a woman constable before taking the extreme step, the police said. The constable had been missing since September 13. Two others involved in the murder were later arrested, officers added.
According to the police, the murder victim Sudha, 39, was a police constable at Huliyar station in Tumakuru. After she went missing, her mother Drakshanamma filed a complaint with the police. During the probe, officers learned that Sudha's cousin Manjunath, 26, had died by suicide at a lodge on September 16, leaving behind a 13-page death note in which he confessed to having killed Sudha and abandoning her body. The note also named two people, Nikesh and Rani, as his accomplices. Read more.
Karnataka Home Minister Araga Jnanendra on Tuesday informed the Legislative Assembly that there are 9,432 police constable vacancies in the state, and 5,000 among them will be filled up this year.
The Minister was responding to a question on shortage of police constables in the state raised by BJP MLA Preetham Gowda in the Legislative Assembly, during the question hour.
"When our government came to power the police vacancy in the state was about 22,000… at one point in time out of total 1 lakh police there was about 35,000 vacancy, but today the vacancy is only 9,432," Jnanendra said.
Noting that on September 12, 2022 a notification has been issued to select 3,500 constables, he said to select another 1,500 civil constables a notification will be issued in a week's time.
"So 5,000 vacancies will be filled up this year, and there will not be too many vacancies soon. The respite is that in 20 years this is the first time with very less vacancies," he said, adding that all necessary measures will be taken to ensure that there is no hindrance or shortage of police in maintaining law and order.
Intervening, JD(S) MLA H K Kumaraswamy said as per rules there should be 22 constables in every police station, but whenever asked either some of them are on deputation or on the bandobast duty.
"…. how to function when such is the situation? The government must ensure that there are adequate number of constables at the station," he said.
Responding to this, the Minister said the civil police are generally not used or deputed for bandobast, but depending on the situation locally they might be used as per necessity. PTI
"Gauri," a documentary based on late journalist-activist Gauri Lankesh, directed by her sister and award-winning director Kavitha Lankesh, has won the 'Best Human Rights' film at the Toronto Women's Film Festival 2022.
The film has been selected also for the South Asian Film festival of Montreal and is in consideration at Doc New York, International Documentary Film Festival of Amsterdam, Sundance Film Festival, and other festivals across the world.
Kavitha Lankesh, in a statement, said the documentary exposes the physical and verbal threats journalists face every day in India.
There were over 200 reported attacks on journalists in India in the last five years, out of which over 30 of them were murder in the last decade, she said. The attacks range in severity but the intention behind them matter, she said.
India's number in the global press freedom index is 150 out of 180, she further said and added that attacks on dissenters and journalists are unfortunately not new nor limited to India, but it is the intensity in which the attacks have taken place in the last decade is something to be concerned about.
Gauri Lankesh was shot dead on the night of September 5, 2017, from close range near her house in Rajarajeshwari Nagar in Bengaluru.
According to the statement, the documentary film "Gauri" has been commissioned by Free Press Unlimited, Amsterdam.
Free Press Unlimited mission stems from Article 19 of the Universal Declaration of Human Rights that says everyone has the right to freedom of opinion and expression; this right includes freedom to hold opinions without interference and to seek, receive and impart information and ideas through any media and regardless of frontiers, it said. PTI
CM Basavaraj Bommai has given in-principle approval for setting up super specialty hospital in Uttara Kannada district, said Health and Medical Education Minister Dr KSudhakar.
This fulfills the long-standing demand of the people of Uttara Kannada district for a well-equipped tertiary hospital.
Dr Sudhakar spoke to media after a meeting with all elected representatives of the district including district in-charge minister Kota Srinivasa Poojari, MLAs and MLCs at his official residence.
Our government is committed to ensuring the availability of quality healthcare services in the Uttara Kannada district.
Location and other modalities regarding the hospital will be discussed with the Chief Minister. The proposal has been sent to the finance department. After discussing with CM the proposal will be tabled in the cabinet, said Dr Sudhakar.

Karnataka CM Basavaraj Bommai felicitates Kerala CM Pinarayi Vijayan in Bengaluru, September 18, 2022. (PTI)
Five people have been arrested in Hyderabad for allegedly kidnapping two Bengaluru real estate brokers after posing as police officers and extorting Rs 11 lakh from them. The Bengaluru police on September 18 identified the arrested people as Prasad, Sathyanarayana (both from Hyderabad), Sridhar, Kiran More and Nagorav (all from Maharashtra), and said two more accused, Harish and Verma, were absconding.
Karnataka Congress president D K Shivakumar on Monday appeared before the Enforcement Directorate here for questioning in a money laundering case.
The 60-year-old Congress leader reached the office of the federal agency at A P J Abdul Kalam Road around 12 noon and was seen entering the office after getting a pass made from the front office. He was accompanied by a few persons. Shivakumar was summoned by the ED last week. The Congress leader had said he was not aware of the case for which he has been asked to appear before the agency.
The monsoon this year caused a damage to the tune of Rs 3,600 crore to the crops, houses and infrastructure in Karnataka, news agency PTI quoted Chief Minister Basavaraj Bommai as saying on Monday. He said the State would claim Rs 1,645 crore from the Centre under the National Disaster Relief Fund.
"More than 10.06-lakh hectare of agricultural land and 42,048 houses were damaged in the flood. We had earlier estimated that the crop loss occurred in 5.8 lakh hectares but according to a broader estimate now, the loss happened in 10.06 lakh hectares till Sunday. We have estimated that Rs 1,550 crore will be required for the crop loss," Bommai told the Karnataka Assembly.
The RSS will hold a national colloquium, Lokmanthan 2022, from Wednesday in Assam as a response to "inimical forces projecting India's cultural diversities as differences", it was announced in Bengaluru on Monday. "Multiple breaking India brigades are advocating sentiments like Free Northeast, Free Kashmir, Free Kerala, etc. Lokmanthan is an answer to such forces who are dividing the nation. Sanskriti is the basis of cultural unity although India has got contradictory traditions, customary practices and bewildering cultures. Lokmanthan also aims to bridge the gap between intellectual and cultural aspects of India," said J Nandakumar, chief convener of the RSS-affiliated Prajna Pravah, which organises the colloquium.