Karnataka Bengaluru News Highlights: The state reported 104 new Covid-19 cases and one virus-related fatality Sunday, the health department said. Of the total 104, 93 cases were reported from Bengaluru. The positivity rate is now at 0.98 per cent. Meanwhile, 108 patients recovered from the disease in the last 24 hours. The death was reported in Mysuru.
Taking preventive measures against Covid-19, the Karnataka government on Saturday ordered screening, surveillance and tele-monitoring of passengers arriving from Japan and Thailand. On an average the state is registering 110 cases daily with the test positivity rate ranging between 0.9 and 1.1 per cent.
In other news, a 26-year-old man in Mangaluru, a coastal city of Karnataka, was arrested for allegedly flashing his private parts to women inside a mosque on the intervening night of Thursday and Friday. The accused has been identified as Sujith Shetty, a resident of Karkala. The incident took place at the Jumma Masjid located in Mangaluru city around 2 am Friday night when the 'Laylat al-Qadr' programme was being organised as a part of the observance of the month of Ramzan.
Just two days after Bengaluru recorded a maximum temperature of 36.7 degree Celsius, the city received heavy rainfall and hailstorm Sunday.
Areas like Frazer Town, BTM, Shivajinagar, Vijaynagar and Hosahalli received heavy rain. While the Bruhat Bengaluru Mahanagara Palike (BBMP) control room was yet to estimate the damages, there were reports of trees uprooting in the BTM and nearby areas.
The India Meteorological Department (IMD) recorded rainfall of 11.2 mm at Bengaluru city observatory, 5.4 mm at the observatory in Bengaluru International Airport and 26 mm at HAL airport. For the next 48 hours, the weather department has predicted rain and thunderstorms in Bengaluru and the temperature will likely be between 35 and 23 degree Celsius. (Read More)


The BJP central leadership now has the courage and the strength to implement wholesale changes in leadership in states, national organising secretary B L Santhosh has said, triggering fresh speculation of impending changes in the Karnataka government headed by Chief Minister Basavaraj Bommai.
Speaking at a meeting of BJP leaders in the Mysuru region on the weekend, Santhosh stated: "In the last Delhi municipal council elections, we decided that no sitting corporators would be given tickets, and fielded all new candidates. In Gujarat, we decided against fielding councillors who had been in power for more than two terms, as well as those in their inner circles, and there was wholesale change."
Only the BJP could carry out such large-scale changes, Santhosh said. "Those who used to sit at the back have all come forward to the front rows. In some parties and even in some districts in this state, there is a situation where people have been permanently in the back rows. The party has today obtained the courage and the strength to change this arrangement." (Read Complete Political Pulse here)
Karnataka on Sunday logged 104 fresh coronavirus cases and one death, taking the total infection count and toll to 39.47 lakh and 40,060 respectively.
Of the total infections, Bengaluru urban district saw 93 while Vijayapura reported three cases, two each in Dakshina Kannada and Bengaluru Rural, and one each in Bidar, Tumakuru, Udupi and Uttara Kannada.
The lone death was reported in Mysuru.
There were zero infections and fatalities in 22 districts of the state.
According to a health department bulletin, 108 people were discharged in the last 24 hours, taking the total number of recoveries to 39,05,844 till date. Active cases stood at 1,780.
The positivity rate for the day was 0.98 per cent, while case fatality rate was 0.96 per cent. (PTI)
The Yeshwanthpur police in Bengaluru on Saturday arrested a woman who had allegedly cooked up a story of robbery after killing her husband so that she could live with her boyfriend.
"The woman confessed to the crime when we confronted her with the evidence. We have recovered the knife she used to murder her husband," a police official said. The police have launched a hunt to nab the woman's boyfriend who is suspected to have been an accomplice in the murder.
The accused Dilli Rani (27) lived with her husband Shankar Reddy, who was an accountant with a private firm, and their seven-year-old son in Yeshwanthpur, officers said, adding that they hailed from Andhra Pradesh. (Read More)
A dozen more people have been arrested in connection with the police sub-inspectors (PSI) recruitment scam, taking the total arrests to over 30 including the kingpin Divya Hagaragi, a BJP leader.
Police sources on Sunday said the arrested people were candidates who had bribed to get a posting.
Another accused from Mangaluru surrendered before the police. He told reporters that he was not keeping well, so he did not turn himself in.
After the reports of his alleged involvement emerged, he decided to surrender but claimed innocence.
The scam came to light when a candidate, who had attempted only 21 questions in the OMR sheet with 100 questions, was shown as if he scored 100 marks. (PTI)
Israel-based ISMC Analog Fab Private Ltd has expressed willingness to set up a semiconductor fabrication plant in Karnataka at an outlay of Rs 22,900 crore.
The company will implement the project over a period of seven years with an employment potential for 1,500 people, a government release said.
Additional Chief Secretary in the department of IT, BT Dr E V Ramana Reddy and Director of ISMC Ajay Jalan signed an memorandum of understanding in the presence of Chief Minister Basavaraj Bommai.
Welcoming the deal, the CM said, "This MoU is a significant agreement amid the competition among various states to attract semiconductor fabs. Karnataka understands that it's not just the fiscal incentives that matter but availability of conducive ecosystem and overall ease in operations are also important." Underlining that Karnataka has one of the best infrastructures in the country and an abundant skilled talent pool, Bommai said his government is not only trying to bring down the entry barriers for businesses but also make it easier to exit businesses, "should it be so required". (PTI)
Police Sub-Inspector (PSI) recruitment scam accused Manjunath Melakundi has surrendered before Criminal Investigation Department (CID). Manjunath worked in the irrigation department and was absconding after an FIR was registered. The state government had warned that the assets of the accused who are absconding would be confiscated.
Manjunath who came in an auto-rickshaw spoke to the media and said that he had done no mistake and his health condition was not good. "I was in Mangaluru and came to Kalaburgi only today morning," he said.
An educational institution in Dakshina Kannada district of Karnataka has announced that they will provide free education for children of Kashmiri pandits who had been displaced from their homeland and had settled elsewhere in the country.
Ambika Mahavidyalaya in Puttur taluk of Dakshina Kannada district is the institution which has come forward with the offer.
The institution's convenor Subramanya Nattoj making the announcement at a press meet at Puttur on Saturday, said he was moved by the plight of Kashmiri pandits after watching the film 'The Kashmir Files.' Nattoj visited Jammu and after studying their situation, took a decision to impart free education to the children of all displaced Kashmiri pandits.
He has chalked out a plan to provide free education from sixth standard to graduation for Kashmiri students. He has also announced free hostel facility for them. (PTI)
Karnataka Health Minister K Sudhakar has offered Rs 5 lakh to a 24-year-old woman who was attacked with acid by her stalker in Bengaluru on Thursday. He also announced that the cost of the woman's treatment will be borne by the government.
Speaking to the media on Saturday after visiting the woman who is being treated in the ICU at St John's Hospital, Sudhakar said the government will not spare the culprits behind such heinous acts. The victim was injured on her chest, back and head, the police said, adding that she was out of danger. Read More
Addressing a workshop of the engineers of the Bruhat Bengaluru Mahanagara Palike (BBMP) at the Puttanna Chetty town hall Friday to discuss public grievance redressal, the civic body's chief commissioner Gaurav Gupta said that the grievance redressal apps are being upgraded and the officials should actively get involved in solving their problems.
"It is our responsibility to make the city look clean and beautiful. For that, the BBMP had already come up with the 'Sahaaya app' to alleviate local problems. In addition, the 'Fix My Street' app and the 'Silt and Tractor' app are also being developed. Problems need to be solved at the source itself," he said. Read more
A 33-year-old man has been arrested in Bengaluru for allegedly duping a woman out of Rs 89 lakh after claiming to be working in the Prime Minister's Office and promising to help her with a visa.
Police said that Arahanth Mohan Kumar Lakkavalli, a resident of Rajajinagar in Bengaluru who had claimed he worked with the Intelligence Bureau (IB) and the Research and Analysis Wing (R&AW), which report to the Prime Minister's Office, was a B Com graduate and a real estate agent. He was arrested on Wednesday.
Last year, the Hoodi Lake located in the Hoodi village under the Mahadevapura zone was restored at a cost of Rs 2.5 crore. While the Bruhat Bengaluru Mahanagara Palike (BBMP) diverted the sewage and restored the lake, the work is half way through due to paucity of funds. Spread in an extent of more than 15 acre, the lake wears a dry look during the summers since it is completely dependent on rain.
Balaji Raghotham, a lake activist, said, "The lake is now in a good state. It is free from sewage and properly fenced. However, the plan to construct a jogging path is not something I would approve of. The concentration should not be more on the beautification of the lake. Since the lake is not connected to the sewage treatment plant (STP), there is no scope of treated water coming to the lake. It is completely dependent on the rainwater. BBMP should work on getting the rainwater towards the lake." Read more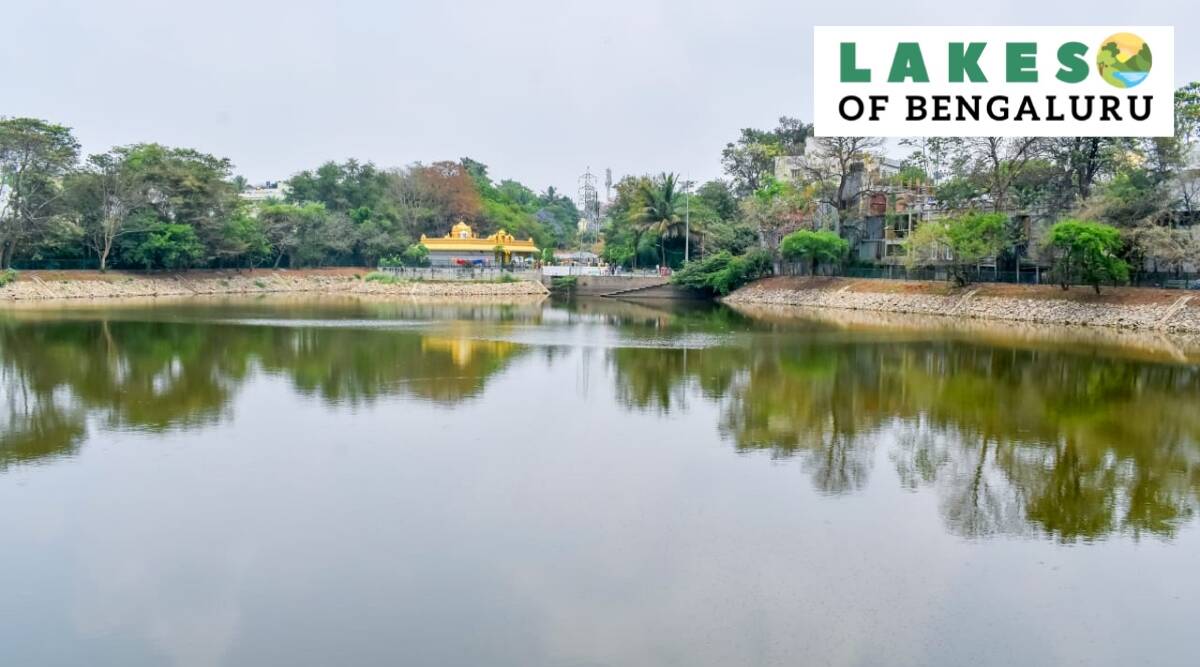 A 26-year-old man in Mangaluru, a coastal city of Karnataka, was arrested for allegedly flashing his private parts to women inside a mosque on the intervening night of Thursday and Friday.
The accused has been identified as Sujith Shetty, a resident of Karkala. The incident took place at the Jumma Masjid located in Mangaluru city around 2 am Friday night when the 'Laylat al-Qadr' programme was being organised as a part of the observance of the month of Ramzan.
A day after the Karnataka government announced its decision to annul the alleged scam-tainted examination held to recruit 545 police sub-inspectors in the state and hold re-exams, Leader of Opposition in the Assembly, Siddaramaiah on Saturday said the BJP-led dispensation has acknowledged the scam and demanded the resignation of Home Minister Araga Jnanendra.
Seeking an impartial probe, in a series of tweets, he said the investigation should be monitored by a sitting High Court judge. "Home Minister Araga Jnanendra has acknowledged the scam in the 545 PSI recruitment exam and cancelled the process. On what moral grounds can he continue as Home Minister? He should immediately resign for an impartial investigation to continue," Siddaramaiah said. (PTI)
Karnataka Revenue Minister R Ashoka on Saturday said the government has been able to identify 3.58 lakh ineligible and bogus beneficiaries of social security pensions, which has led to savings worth Rs 430 crore. The state at present offers nine monthly pensions, including old age, disability, widows, unmarried/divorced women, transgenders, acid attack victims and endosulfan patients.
"We are using our Navodaya app to review pension beneficiaries, the data is linked to the ration database and e-Janma (births and deaths) database. This has made it possible to identify ineligible pensioners, including those who are dead," Ashoka said. He said there are 73.23 lakh beneficiaries in the state and in 2020-21, the government spent Rs 7,800 crore on pension payments, which is expected to go up to Rs 9,483.51 crore this year. (PTI)
The state reported 126 new Covid-19 cases and two virus-related fatalities Saturday, the health department said. Of the total 126, 120 cases were reported from Bengaluru. The positivity rate is now at 1.26 per cent. Meanwhile, 76 patients recovered from the disease in the last 24 hours. Of the total 1,785 active cases in the state, 1,715 are in Bengaluru.
Taking preventive measures against Covid-19, the Karnataka government on Saturday ordered screening, surveillance and tele-monitoring of passengers arriving from Japan and Thailand. On an average the state is registering 110 cases daily with the test positivity rate ranging between 0.9 and 1.1 per cent.
"Currently, 2 per cent of international arrivals from designated countries are screened randomly at airports, as per guidelines of the government of India. Further, in view of the recent spurt of Covid-19 cases in China, Australia, Japan, Thailand, Vietnam, New Zealand, Russia and South Korea, further surveillance may be required. Of the eight countries, direct flight services to Bengaluru are available only from Japan and Thailand. Hence, it is instructed to initiate the surveillance measures for those arriving from Japan and Thailand," said a circular signed by TK Anil Kumar, principal secretary to the health and family welfare department.
Hello and welcome to today's live blog. Catch the latest news in Bengaluru and Karnataka on political developments, Covid-19, weather and more in the state.
Karnataka Revenue Minister R Ashoka on Saturday said the government has been able to identify 3.58 lakh ineligible and bogus beneficiaries of social security pensions, which has led to savings worth Rs 430 crore.
The state at present offers nine monthly pensions, including old age, disability, widows, unmarried/divorced women, transgenders, acid attack victims and endosulfan patients.
"We are using our Navodaya app to review pension beneficiaries, the data is linked to the ration database and e-Janma (births and deaths) database. This has made it possible to identify ineligible pensioners, including those who are dead," Ashoka said. (PTI)
People hold placards and shout anti-government slogans during a protest in Bengaluru, Saturday. The demonstration was organised to promote communal harmony and denounce Islamophobia in the wake of recent communal violence in many places across India.
(AP photos)


With a spate of communal flare-ups recurring in Karnataka, Chief Minister Basavaraj Bommai has said the State would form a committee to control hate speeches in accordance with instructions of the Supreme Court."We will form a committee to control hate speeches in accordance with the instructions of the Supreme Court," Bommai told reporters at the Hubballi airport.
The Karnataka government withdrew results to the Police Sub-Inspector (PSI) exams that were held in October last year and admitted that malpractice took place at more than one exam centre. A re-examination will be conducted soon, Home Minister Araga Jnanendra said. On Friday, seven persons, including BJP leader Divya Hagaragi, Jnana Jyothi English Medium School headmaster Kashinath, teachers Archana and Sunanda, a candidate named Shanthi Bai and two others were arrested. Maharashtra businessman Suresh Katgaon was arrested for sheltering Hagaragi.
Former president of the BJP's Kalaburagi district women's unit Divya Hagaragi, an accused in the police sub-inspector recruitment exam scam, was among the five people arrested by the Karnataka Police's Crime Investigation Department (CID) from Solapur in Maharashtra on Friday night. Two of those arrested — Archana S and Sunanda S — were the exam invigilators at the Hagaragi's school that was one of the exam centres, while remaining two, including a businessman from Maharashtra, were held for sheltering them.
Hagaragi, 41, who is the owner-principal of the Jnana Jyothi English School in Kalaburagi, is accused of facilitating large-scale cheating in the police recruitment exam conducted on October 3, 2021, at the school that was one of the centres.
A local court Thursday handed over H Nagaraj, registrar (evaluation) of Karnatak University Dharwad, to 10-day police custody. Nagaraj was arrested after the arrest of one of his students, Sowmya R, from Mysuru.
The arrests follow a complaint by the Karnataka Examination Authority (KEA) that the examination conducted to hire assistant professors held in March this year was compromised. KEA executive director S Ramya had filed a complaint alleging that the Geography question paper was leaked hours before the exam began on March 14.