Bengaluru News Highlights, January 5, 2023: Six pilgrims were killed and at least 16 others injured after a goods vehicle they were traveling in rammed into a tree in Karnataka's Belagavi district early on Thursday. The incident took place near Chinchanur village in Ramdurg taluk when the victims were traveling to the Saundatti Yellamma temple. While five people were killed on the spot, one died in the hospital. All of them are residents of Chinchanur village in Ramdurg taluk of Belagavi district.
Meanwhile, BJP president J P Nadda is on a two-day visit to poll-bound Karnataka from today, where he will attend several public programmes and organisational meetings. He will participate in the BJP's 'Shakti Kendra' heads meeting in Tumkur, and visit the Siddaganga mutt today before addressing SC, ST, and OBC workers' meeting in Chitradurga. Karnataka is scheduled to go to the state assembly polls in the month of May, with the ruling BJP pitted against the Congress and the JD(S) in the contest.
In other news, during his visit to Karnataka on Thursday, Union Minister for Road Transport and Highways Nitin Gadkari will conduct an aerial inspection of the Bengaluru-Mysuru and the Bengaluru-Chennai expressway projects. The Bengaluru-Mysuru expressway, which is being undertaken at a cost of Rs 8,453 crore, aims to reduce the journey time between the two cities from three hours to one-and-a-half hours, whereas the Bengaluru-Chennai 10-lane expressway aims to reduce travel time from around seven hours to under three hours.
Two leopards were reportedly spotted on the campus of the Central Food Technological Research Institute (CFTRI) in Mysuru by a security person who informed the CFTRI authorities, who then alerted the forest department and the police.
Deputy Conservator of Forest, Mysuru, Mahesh Kumar said a team was dispatched but it could not find any pugmark.
"Neither did we find any pugmark nor did the CCTV footage show any evidence of the sighting. Assistant Conservator of Forest Lakshmikanth and Range Forest Officer Surendra inspected the campus," Kumar said.
Read more
Union Minister for Road Transport and Highways Nitin Gadkari says the new greenfield project- Bengaluru to Chennai Expressway–will be ready by March 2024.
The 285.3 km four-lane project will help save travel time, Gadkari told reporters.
Amrit Mahotsav Bird Sanctuary and an Amrit Sarovar will also come up on this stretch, news agency PTI reported.
Two women's bodies were discovered at two different railway stations in Bengaluru within a month but the police were yet to identify the victims even though they registered murder cases.
On Wednesday, around 9.30 am, a housekeeping staff noticed a foul smell coming from a blue-colored plastic drum on platform number 1 at Yesvantpur railway station (towards Tumakuru end). Upon opening it, she found the body of a woman suspected to be around 30 years old.
Read more
Karnataka High Court has stayed the state government's decision fixing the service charge collected by aggregator platforms such as Ola, Uber and Rapido for autorickshaw rides booked through their applications at 5 per cent plus applicable GST on the base fare.
Citing the Motor Vehicle Aggregator Guidelines, 2020, the aggregators had submitted to the high court to permit them to charge a commission of 20 per cent along with a surge price of up to double the base fare/rate on autorickshaw rides booked through their platforms.
Read more
In the wake of former Karnataka CM H D Kumaraswamy seeking answers from current CM Bommai on links of Santro Ravi — a criminal with a history sheet of human trafficking and prostitution cases against him — to BJP cabinet ministers and role in government transfers, Bommai has denied any association with him.
Kumaraswamy had questioned Bommai on Wednesday after local channels broadcasted an audio recording of a purported conversation between Ravi and a police officer where Ravi could be seen providing assurances of facilitating a transfer of the official. 'Ravi' claimed to be a close associate of the CM and senior police officers in the audio recording. Read more.
The city traffic police data has revealed that in the year 2022, Bengaluru reported the second-highest number of deaths due to road accidents in a decade. According to the data, 3,827 accidents were reported in Bengaluru in 2022, leading to the deaths of 777 people and injuring 3,235 people.
Though the number of accidents has increased when compared to 2020 and 2021, when 3,236 and 3,213 accidents were recorded, respectively, the police said this could be attributed to the fact that due to the Covid-19 pandemic and subsequent lockdowns, the movement of vehicles was restricted. Read here.
Vinod, a 23-year-old man died in custody on Thursday morning. A resident of Cotton Pete, a locality in Bengaluru, Vinod was brought to the Cotton Pete police station on Wednesday after being accused in a theft case of a Honda Dio motorbike in the city.
At around 3:45 am on Thursday, when the SHO came to check on him, he was found to be unconscious. He was declared dead after being taken to the Victoria Hospital. Vinod had a pending non-bailable warrant in the theft case and was about to be produced in court today.
It will be considered a case of custodial death, and procedures as per the NHRC guidelines will be followed. The case will be handed over to the Crime Investigation Department.
Six pilgrims were killed and at least 16 others injured after a goods vehicle, they were traveling in, rammed into a tree in Karnataka's Belagavi district early on Thursday.
The incident took place near Chinchanur village in Ramdurg taluk when the victims were traveling to the Saundatti Yellamma temple. The goods vehicle which was ferrying the victims rammed a tree near Chinchanur village in Ramdurg taluk. While five people were killed on the spot, one died in the hospital. All of them are residents of Chinchanur village in Ramdurg taluk of Belagavi district.
The deceased have been identified as Hanumavva (25), Deepa (31), Savitha (17), Supritha (11), Maruthi (42), Indravva (24). The police said that the injured have been shifted to various hospitals in Gokak and other places for further treatment.
(Express Photo)


In the wake of the surge in Covid-19 cases in countries like Japan and China, the Karnataka government is preparing to prevent Covid infections in the state by asking people to take booster shots of the vaccine against the virus. As most of the centers have run out of these vaccines, the state health department has placed more orders for Covishield and Corbevax booster doses
Health and Family Welfare Commissioner Randeep D said, "We have placed the request to the union government for 25 lakh Covishield and 5 lakh Corbevax doses. We are expecting it to come by this week anytime." Read more.
Union Minister for Road Transport and Highways Nitin Gadkari Thursday conducted an aerial inspection of the Bengaluru-Chennai Expressway along with Karnataka Public Works Department Minister C C Patil and MP B.N. Bache Gowda.
The Bengaluru-Chennai 10-lane expressway aims to reduce travel time from around seven hours to under three hours. The 'new alignment' project will connect Hoskote (in Bengaluru) to Sriperumbudur in the Kanchipuram district (40 km from Chennai).
The 262-km long Bengaluru-Chennai expressway is one of the 26 new green expressways by the National Highway Authority of India (NHAI). Its foundation stone was laid by Prime Minister Narendra Modi in May 2022. It will pass through Karnataka, Andhra Pradesh, and Tamil Nadu.
Sharing his inspection over a tweet, Gadkari wrote, "Inspected the progress of the Bengaluru – Chennai Expressway with Karnataka PWD Minister Shri @CCPatilBJP Ji and MP Shri @BNBachegowda_MP Ji. We are constructing this 262 km long 8-Lane structure worth of ₹16,730 Cr."
Inspected the progress of the Bengaluru – Chennai Expressway with Karnataka PWD Minister Shri @CCPatilBJP Ji and MP Shri @BNBachegowda_MP Ji. We are constructing this 262 km long 8-Lane structure worth of ₹16,730 Cr.#PragatiKaHighway #GatiShakti #BengaluruChennaiExpressway pic.twitter.com/Lq92uRdGjj
Bengaluru will witness partly cloudy skies for the next 24 hours. Fog/mist is likely to prevail during the early morning hours in some areas.
The maximum and minimum temperatures in the city are very likely to be around 27 and 16 degrees respectively.
Amid Hindutva groups' call for bringing in a law against "love jihad" and Karnataka BJP chief Nalin Kumar Kateel's claim that the "concern" needed to be prioritised over "roads, gutters, drains and other small issues", the Vishwa Hindu Parishad has launched a "helpline" in the communally sensitive coastal district of Dakshina Kannada.
Speaking to The Indian Express, VHP state vice-secretary Sharan Pumpwell said that at least 20 members of the organisation would work for the helpline against "love jihad", whereby Hindutva activists claim Muslim men lure women of other religions into marrying them and converting to Islam.
Read more
A married daughter remains a daughter in the same manner that a married son remains a son, the Karnataka High Court has ruled while quashing a Sainik Welfare Board guideline that barred married daughters from availing dependent cards available to the children of ex-defence personnel.
"If the son remains a son, married or unmarried; a daughter shall remain a daughter, married or unmarried. If the act of marriage does not change the status of the son; the act of marriage cannot and shall not change the status of a daughter," a single judge bench of the Karnataka HC ruled in an order on January 2.
Read more
According to news agency ANI, Karnataka Congress president DK Shivakumar Wednesday verbally attacked the BJP after Amit Shah urged the people of Karnataka to choose between PM Modi who built the Ram temple and those who glorified Tipu Sultan, in the coming state Assembly elections.
"Shah said PM Modi will be the face of the election. That means there won't be any state leadership. Will PM Modi run the state? We want a leader in the state & Congress is claiming to give a collective leadership," Shivakumar said. (ANI)
Amit Shah said PM Modi will be the face of the election. That means there won't be any state leadership. Will PM Modi run the state? We want a leader in the state & Congress is claiming to give a collective leadership: Karnataka Congress president DK Shivakumar, Bengaluru pic.twitter.com/4TxqGdkner
BMRCL Managing Director Anjum Parvez and Bengaluru Special Commissioner, Traffic, MA Saleem on Wednesday inaugurated the pre-paid auto kiosk at MG Road metro station.
The pre-paid auto kiosk aims to bridge last-mile connectivity from metro stations, as well as assure the safety of passengers. It will be managed by the city's traffic police department.
(Express Photo)


Karnataka Chief Minister Basavaraj Bommai Wednesday performed the Bhoomi Puja for the construction of a 400-bed Mother and Child Hospital in Ballari.
The hospital is to be built on the premises of Vijayanagara Institute of Medical Sciences, Ballari, at a cost of Rs 109 crores.
(Express Photos)


BBMP Chief Commissioner Tushar Girinath Wednesday said that Karnataka's Technical Advisory Committee on Covid-19 has taken note of the XBB variant, which is driving the Covid surge in countries abroad.
"All the samples will be subjected to genomic sequencing. We will wait for the technical advisory committee's directions and take suitable measures," Girinath said commenting on the status of XBB variant in the state.
A day after the murder of a 19-year-old girl on the college campus, the Karnataka Police Tuesday booked authorities at Presidency University College in Bengaluru for not providing security to students.
Layasmitha, a first-year BTech student of Presidency University College, was stabbed multiple times by her distant relative Pawan Kalyan on the college campus Monday afternoon. Kalyan stabbed himself later and is being treated at Bowring and Lady Curzon Hospital. Read more.
The Karnataka government Tuesday withdrew the seven-day mandatory home quarantine for international passengers arriving in the state from high-risk countries such as China, Japan, Singapore, Hong Kong, Thailand, and South Korea.
Karnataka Health Commissioner Randeep D said that the state would follow the guidelines for international arrivals issued by the Central Government that do not permit quarantine. Read more here.
Two days after the death of a 47-year-old businessman in Bengaluru, following which Karnataka BJP MLA Arvind Limbavali and five others were named in the FIR, Congress leaders Tuesday demanded the government to arrest Limbavali and provide justice to the victim's family.
Pradeep S, 47, a resident of Ambalipura in Whitefield, reportedly shot himself with a licensed gun around 5.30 pm on January 1 while returning from Woodrose resort near Kaggalipura. Read here.
[youtube https://www.youtube.com/watch?v=Fj2ap8vKCL4&w=560&h=315]
What began as a casual meet-up between Kannada rappers Dr Deepak Shridhar (Chindi Chitranna) and Anoop KR (Kata) ended up as one that laid the foundation for the satirical rap track, 'Aladsu' (which translates to 'shake') released in December. The track calls out how the government has 'recklessly' spent the income of citizens without paying heed to Bengaluru's crater-filled roads and the problems they cause to commuters. Read here.
Narayan Ramachandran, member of the Advisory Council of the Centre for Wildlife Studies, launched a book titled Biodiversity in Microhabitats Plants, Predators, and Prey of Arogyashram in Bengaluru Monday.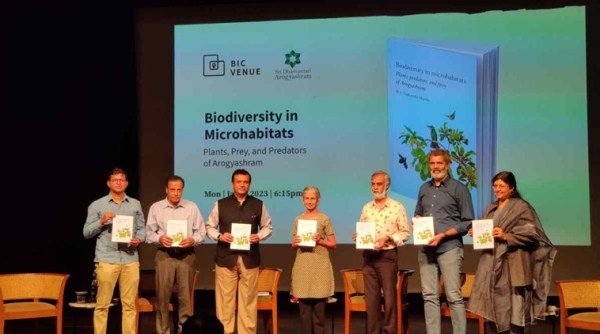 Speaking at the launch of the book, Kannada filmmaker and environmentalist Suresh Heblikar said that the biodiversity habitat at Sri Dhanvantari Arogyashram should be shown to companies in Bengaluru where medicinal plants could be planted in vacant spaces.
The book has been authored by BV Venkatesha Murthy, chairman of Sadvaidyasala Private Limited (SVL) and Dhanvantari Arogyashram Trust. Dr MD Madhusudan, visiting scientist at National Centre for Biological Sciences, said: "If we walk through plants, birds, and insects and not identify even one of them, what is the point? We should allow nature to grow in us." Read more.