CBSE Board 10th Result 2022 Updates: The Central Board of Secondary Education (CBSE) on July 22 declared the class 10 board exam results. Students can check their marks at the official websites – cbse.nic.in, cbseresults.nic.in, cbse.gov.in and cbseresults.gov.in. 
This year, the overall pass percentage for CBSE class 10 results has gone down as compared to the previous year's 99.04 per cent. This year's pass percentage is 94.40. A total of 2109208 candidates registered for class 10 exams, of which, 1976668 students have passed.
​​A consolidated mark sheet of both terms will be made available after term 2 results are announced. This year, unequal weightage will be given to students' performance in Term 1 and Term 2 exams. CBSE has announced that 30 per cent weightage will be given to the Term 1 theory exam held in November-December last year and 70 per cent weightage to the Term 2 theory exam conducted in April-May this year. However, practical exams in both terms have got equal importance while arriving at final results.
The overall pass percentage in Panchkula and Chandigarh regions stood at 95.38% and 96.33% respectively, as the Central Board of Secondary Education (CBSE) announced the Class 10 results on Friday. Both regions have recorded a higher pass percentage than the national average of 94.40%. The Chandigarh region consists of Punjab, union territories (UTs) of Chandigarh, J&K and Ladakh, while Panchkula region covers Haryana and Himachal Pradesh
Nahar Rohilla, a student of KBDAV School, Sector 7, Chandigarh, bagged the first position in the Tricity with 99.8 per cent marks in the Class 10 results, which were declared Friday. Nahar aims to become a doctor as he has an interest in biology subject. His father is DGM at Food Corporation of India, currently posted in Mumbai and his mother is a housewife. Read more
CBSE started the day by declaring the class 12 results today. This year, the board recorded an overall passing percentage of 92.71 per cent. Trivandrum has emerged as the best performing region with a pass percentage of 98.83 per cent. Check LIVE updates here
– cbseresults.nic.in
– cbse.digitallocker.gov.in
– cbse.gov.in
This year, a total of 107689 candidates (5.14%) have been placed in compartment, which is much more than 17636 (0.84%) recorded last year.
While the nationwide pass percentage in the Class 10 examinations is lower this year than the previous year, a greater number of students have scored over 90% and 95%. While the overall pass percentage is lower, a higher share of students has scored in the highest marks range of 95% and above. Read full report here
"A new chapter and thrilling challenges await you; filled with learning and exploring opportunities. Best wishes to my young friends on this new journey! Well Done!," the Union Minister for I&B and Youth Affairs & Sports Anurag Thakur tweeted.
Congratulations to all the students who passed the CBSE examination and got their results!
A new chapter and thrilling challenges await you; filled with learning and exploring opportunities. Best wishes to my young friends on this new journey! Well Done !
Yuvakshi Vig who got 500 out of 500 in Class 12th with her sister Tashvi Vig who got 98.5 percent in Class 10th, at Amity School, Noida in Uttar Pradesh on Friday.
(Express photo by Praveen Khanna)


The class 10 and 12 compartment exams 2022 will start on August 23, 2022, and continue till August 25, 2022. The test will be administered using the Term 2 exam syllabus.
tudents who applied for 6 or more subjects but were unable to pass any of the first 5 subjects, with the exception of language, declared pass by substituting the sixth subject from the failed subject are also permitted in compartment examinations to enhance performance in the failed subject. Read full report here
Students have taken to social media to celebrate their results.
Y'all I got 91.5% in cbse class 10 board exams! 😭❤ pic.twitter.com/tCk0gln8WR
Step 1: Visit the official website cbseresults.nic.in or cbse.gov.in
Step 2: Click on the result link available on the homepage
Step 3: Log-in using credentials
Step 4: Result will appear on your screen
Step 5: Take a print out of the scorecard for further reference
In the Chandigarh region, a total of 1,37,343 candidates appeared for Class 10 exams of which 1,30,994 passed. The pass percentage for boys stood at 96.98% in the region and it was 98.02% for girls. Read full report here
The pass percentage of CBSE schools has significantly dropped over the years. This year, schools abroad recorded a pass percentage of 97.29 per cent. Last year, the passing percentage was 99.92% while in 2020 it was98.67 per cent and in 2019 the pass percentage was 80.97 per cent in CBSE schools abroad.
In the class 10 results declared today, girls have marginally performed better than boys by 1.41%. A total of 95.21 per cent girls have passed the exam as compared to 93.80% boys. A total of 90 per cent trangender students have qualified 10th boards.
This year, 64,908 candidates or 3.10% of all candidates have scored 95% and above. Last year, 57,824 candidates or 2.76% had scored in the same range. Similarly, 2,36,993 candidates or 11.32% of the candidates have scored in the 90% and above range this year. This is up from 2,00,962 candidates or 9.58% last year. Read more
केंद्रीय माध्यमिक शिक्षा बोर्ड (CBSE) के द्वारा आज जारी किए गए कक्षा 12वीं के परीक्षा परिणाम में सफल हुए समस्त विद्यार्थियों को हार्दिक बधाई एवं शुभकामनाएं।
मैं आप सभी के उज्ज्वल भविष्य की कामना करता हूँ।
– cbseresults.nic.in
– cbse.digitallocker.gov.in
– cbse.gov.in
There has been an ncrease in the number of students who have scored more than 95% this year.


(Express photo by Gurmeet Singh)


CBSE's Examination Controller Sanyam Bhardwaj has confirmed that the Board will not assign first, second and third divisions to students in class 10, 12 exam results this year. (As quoted by PTI)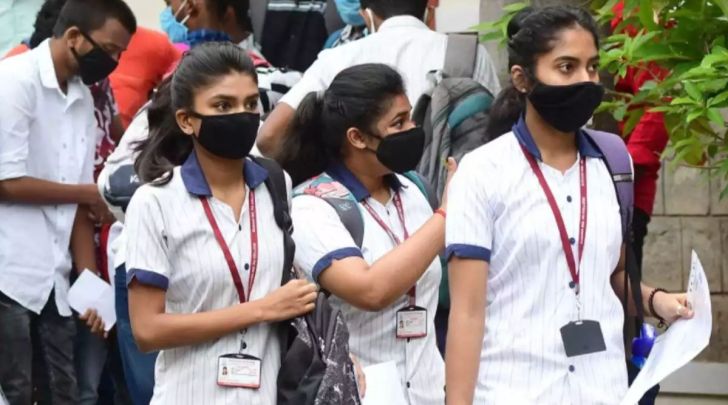 CBSE 10th results 2022 updates: Know how to check the score
CBSE 10th Result 2022 Updates: In institution-wise performance, JNV has has once again fared better than the rest by recording an overall pass percentage of 99.71%.