Chennai News Live Updates (November 5): The Rashtriya Swayamsevak Sangh (RSS) on Saturday said it will not hold its proposed route marches on November 6 as certain conditions laid down by the Madras High Court in this connection were "not acceptable" to it. An appeal will be preferred against the single judge order, R Vanniarajan, president, RSS South Zone, said in a press release. He said the organisation had moved the court following the state police's refusal of permission to hold route marches in 50 locations across the state on October 2. The court had allowed the programmes to be held on Sunday, reports PTI.
Two persons died and two others were injured after a portion of a building on Mint street, in Chennai collapsed on Friday night, news agency ANI reported. According to the police, fire service personnel were involved clearing the debris and rescued the injured persons.
State-owned Aavin milk brand on Friday announced the hike in prices of its premium segment of milk (sold in orange packets) by 25%. A liter of orange packet Aavin milk will now cost Rs 60. The hike will come into effect from November 5.


A total of 87 students from Tamil Nadu government schools have gained admission to Data Science and Applications course at IIT Madras. Of these, 47 students received the admission letter from school education minister Thiru Anbil Mahesh Poyyamozhi at a function in Chennai on Saturday.
The four-year course was first introduced by IIT Madras in 2021 with the aim of making quality education accessible to all.
According to an official release, the IIT Madras conducts 'Anaivarukkum IITM' (IIT Madras for All), an initiative under which students from government and corporation schools are shortlisted and trained for admission.
IIT Madras shortlisted and supported a select cohort of 192 students from 58 such schools in and around Chennai.
Based on the progressive learning outcomes exhibited during a 14-week in-person training at IIT Madras, 68 students were shortlisted to write the pan-India qualifier exam for admission to the BS Degree.
IIT Madras provides income-based scholarships of up to 75 per cent for students pursuing the BS Degree.
A sleuth of Tamil Nadu Idol Wing posed as prospective buyer and helped to seize an idol of Lord Murugan, billed to be sold for Rs 3 crore in Coimbatore, police said.
S Bhaskar of Ukkadam, Coimbatore, was trying to sell an antique idol of Murugan for Rs 3 crore.
The idol weighed 250 kg while the Thiruvachi (ornamental arch) weighed 50 kg. The idol measured 113 cm in length and 38 cm wide.
(PTI)
Local residents are in fear due to the presence of two tigers near Thalaikunda, police said.
The residents were shocked to notice a viral video that showed a tiger near the carcass of a cow behind the Hindustan Photo Films (HPF) factory reportedly waiting for the arrival of another big cat on Thursday. Also, they were seen by residents in the area today too, police said.
The forest department has placed five cameras and are monitoring the tigers' movement and asked the public not to leave their cattle for grazing in those areas, they said.
The department has not removed the carcass of the cow to prevent the big cats from targeting more animals, they added.
(PTI)
The local chapter of Indian Chamber of Commerce and Industry (ICCI) has joined hands with National Productivity Council, and Taiwan which would provide industries innovative green solutions to curb carbon footprints in the wake of growing climate change threats.
ICCI president Sriramulu and the productivity council director-general Sandeep Kumar Nayak signed a memorandum of understanding (MoU) in this regard on Friday, a release from the chambers said on Saturday.
Earlier, an 8-member delegation of Taiwan-China Productivity Centre held a meeting with industrialists and entrepreneurs during which Taiwan assured to provide technology to promote green technology in energy efficieny, smart e-mobility, water treatment and smart agriculture, said the release.
(PTI)
The Rashtriya Swayamsevak Sangh (RSS) on Saturday said it will not hold its proposed route marches on November 6 as certain conditions laid down by the Madras High Court in this connection were "not acceptable" to it. (PTI)
RMC_Chennai_Autonowcast_Taluk_Experimental 2022-11-05-13:08:39 அடுத்த 3 மணி நேரத்திற்குள்ளாக காஞ்சிபுரம்,ஸ்ரீபெரும்புதூர்,திருவள்ளூர் பகுதிகளில் மிதமான மழை பெய்வதற்கான வாய்ப்பு உள்ளது pic.twitter.com/oZSaUv0oJU
RMC_Chennai_Autonowcast_Taluk_Experimental 2022-11-05-12:47:41 அடுத்த 3 மணி நேரத்திற்குள்ளாக வாலாஜாபேட்டை பகுதிகளில் லேசான மழை பெய்வதற்கான வாய்ப்பு உள்ளது pic.twitter.com/uaSEYLNsSI
Dear #Chennaiites
Removal of garbage from silt catch pits & desilting of storm water drains are being carried out across #Chennai, to get ready to the next spell of rains.#GCC requests you to dispose waste appropriately.Pls do not throw the garbage on roads.#ChennaiCorporation pic.twitter.com/RrFsOzOl6H
மாண்புமிகு தமிழ்நாடு முதலமைச்சர் அவர்களின் உத்தரவின்படி, இன்று மாண்புமிகு நகராட்சி நிருவாகத் துறை அமைச்சர் திரு.@KN_NEHRU அவர்கள், மாண்புமிகு மருத்துவம் மற்றும் மக்கள் நல்வாழ்வுத்துறை அமைச்சர் திரு.@Subramanian_ma அவர்கள், தலைமையில் கோடம்பாக்கம் மண்டலம், வார்டு-136க்கு 1/4 pic.twitter.com/V5eOyuKhhN
Officials in Tamil Nadu's Nilgiris district have taken measures to trap an adult tiger after it killed a cow at Indhu Nagar in Ooty on Wednesday. People residing in the area have been advised to stay alert and not to leave their cattle alone for grazing.
According to a senior forest official, the tiger attacked the cow on Wednesday night and was spotted near the carcass on Thursday morning. A video of the big cat standing near the dead cow soon went viral. See here


The Rashtriya Swayamsevak Sangh (RSS) has decided to postpone its scheduled route marches and other events scheduled for November 6 and appeal against a single judge order of the Madras High Court granting permission for the events with conditions. Read more here
A video of a leopard carrying a dog in its mouth created panic among residents in the vicinity of the Tamil Nadu government's guest house here on Friday.
After the purported viral video of the leopard with a pet dog in its mouth climbing down from the second floor of 'Tamizhakam', the guest house which is located in nearby West Oda area, people in the locality urged the Forest department to trap the animal. Read more…
#WATCH | Tamil Nadu: 1038gm of Gold worth Rs 46.24 lakhs concealed in the outer lining of a trolley suitcase was recovered & seized from a passenger from Colombo at Chennai airport: Customs officials
(Source: Customs) pic.twitter.com/F8XFmm8Aoj
#Rainwater from a low lying area, Ganapathi Siva Nagar, is being pumped out into Retteri lake👇
This area which is saucer shaped naturally accumulates water during rains,so a permanent set up with heavy duty pumps is established to pump out water into theRetterilake during rains. https://t.co/oMlUyjfhOq
Two people were killed and two others were injured after a portion of a 100-year-old building collapsed in Chennai's Mint street on Friday night. Know more here
The Tamil Nadu Generation and Distribution Corporation (Tangedco) has announced that power will be suspended in parts of Chennai today in Tambaram, Adyar carrying out maintenance work in the city.
Parts of Chennai will face a power shutdown from 9 am to 2 pm, with supply expected to resume before 2 pm if the work is completed. Click here to know more
Three of a family at Urapakkam in Chengalpattu district died after inhaling toxic gas that reportedly emanated from the refrigerator, which exploded in their apartment on Friday, Collector Rahul Nadh said.
Two others – a woman and her six-year-old daughter – have been hospitalised and kept under observation, the Collector said after inspecting the house on the first floor near the Urapakkam railway station, where the explosion occurred. Know more…
A low pressure area is likely to form over Bay of Bengal by November 9 and it is likely to move towards Tamil Nadu-Puducherry coastline, the India Meteorological Department (IMD) said on Friday. Deputy Director General of Meteorology, Regional Meteorological Centre, S Balachandran said the Northeast monsoon is very active in Tamil Nadu, Puducherry and Karaikal regions and the State-UT regions, including Chennai, have received higher than normal showers. A dozen places recorded very heavy rains ranging up to 14 centimetres between Thursday and Friday morning, he said.
During the current monsoon season beginning last month, there have been 23 rain-related deaths, a government release said. As many as 1,149 personnel of the National Disaster Response Force (NDRF) and 899 from the TN Disaster Response Force are on standby. Read more
After a video of two youngsters blocking a Metropolitan Transport Corporation bus and dancing in front of it in Chennai went viral on social media, police made them spread road safety awareness from the same spot for three days. In the video, the youngsters can be seen dancing to the popular "Marry Me" reel on Instagram in front of the bus. Another youth, who recorded the video, has also been punished.
After netizens on Twitter alerted the Chennai police to the video on Wednesday, they replied to the tweet saying that "strict action" had been initiated against the youngsters. Read more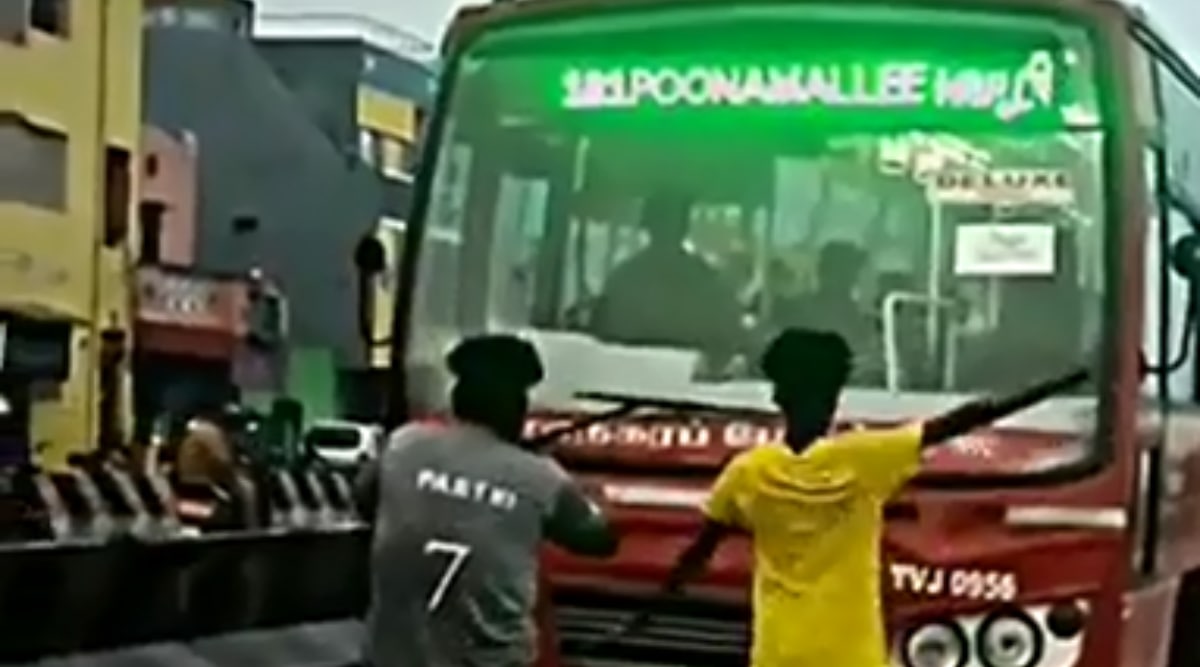 The protest against Chennai's second airport, proposed to be built at Parandur in Tamil Nadu's Kancheepuram district, completed 100 days on Thursday. The residents of Ekanapuram and other surrounding villages have been protesting ever since the state government announced the airport plan.
When indianexpress.com visited the village in August, residents said they did not want to move out of their ancestral land and homes, no matter how much money or alternative land the government would provide as compensation. Read more

(Source: IMD/Twitter)
The IMD on Thursday predicted heavy rainfall over Tamilnadu, Puducherry, Karaikal and Kerala for the next 5 days. The IMD tweeted: Fairly widespread/widespread light/moderate rainfall with isolated heavy falls and thunderstorm/lightning likely to continue over Tamil Nadu, Puducherry and Karaikal until November 07. The southern part of the state will today experience isolated very heavy rainfall.
Tamil Nadu Chief Minister MK Stalin Wednesday said the All India Anna Dravid Munnetra Kazhagam (AIADMK) ruined the state during its 10-year rule and his Dravida Munnetra Kazhagam (DMK) government has been trying to fix everything. Stalin was responding to reports of waterlogging incidents in north Chennai after rains.
Due to heavy downpour in the last few days, certain areas in the city, including Perambur, Pulianthope and Kolathur experienced waterlogging. However, areas like T Nagar, which had been prone to waterlogging, was not affected much.
Meanwhile, in other news,
A delegation of the Coimbatore Federation of All Jamaat and Ulemas on Thursday met priests of the Sangameswarar temple at Kottaimedu, near which an LPG cylinder exploded in a car on October 23, and condemned the incident in which a man was killed.
Inayatullah, general secretary of the federation, told reporters later, "We have been living here in Kottaimedu for over seven generations. People of different faiths have been living together for many years with religious harmony and brotherhood. We condemn the car blast incident, Islam has no connection with violence, we preach peace.
In the wake of bird flu scare in Kerala, the Nilgiris district administration in Tamil Nadu has temporarily suspended the transport of poultry products from the neighbouring state.
According to a release issued by the Nilgiris collector S P Amrith, as bird flu cases have surfaced in Kerala's Alappuzha, the district administration has been taking measures to prevent the spread. He noted that medical teams led by an assistant veterinarian would be stationed at localities like Nambiyarkunnu, Thaloor, Soladi and Kakkundi bordering Kerala. Surveillance has been increased in checkposts like Kakkanallah bordering Karnataka to ensure vehicles carrying poultry do not enter via that route either.