Coronavirus In India News LIVE Updates: In today's live blog we will focus on the developments related to COVID-19 in India. Prime Minister Narendra Modi held a COVID review meeting on Thursday and advised people to increase vigil and the usage of masks. Health Minister Mansukh Mandaviya also briefed the Parliament about the measures being taken by the government to meet the possible challenges. Ministry of Civil Aviation has decided to ensure that two per cent of the total passengers on a flight undergo COVID-19 tests at the airport on arrival. Delhi, Tamil Nadu, Uttar Pradesh, Karnataka, Uttarakhand and Punjab held a COVID review meeting.
04:34 PM
Union Health Minister Dr Mansukh Mandaviya holds a meeting with State health ministers on the COVID-19 situation and preparedness.
02:50 PM
I appeal to people of Karnataka to take the booster dose at the earliest. People should wear masks, especially in indoor places & maintain social distancing. Today Union Health Min is chairing a meeting with us & accordingly will follow guidelines of Centre: Karnataka Health Min
02:50 PM
Health Dept has increased vigilance at public places. Necessary arrangements will be made at international airports like Coimbatore, Chennai, Trichy, Madurai for the random RTPCR testing of passengers from tomorrow as per the order of Central Govt: Tamil Nadu Health Minister
02:49 PM
Amid the fresh global surge in the Covid cases by a new coronavirus variant, B.F7, the Centre government on Friday assured the general public by saying that the Covid positivity rate in the country is declining week-on-week.
According to a release, issued by the Ministry of Health and Family Welfare on Friday, the positivity rate is declining week-by-week with only 0.14 per cent positivity in the week ending on December 22.
"Consistent decline in cases in India is recorded with five states accounting for 78 percent of the daily new cases reported on December 22," the Health Ministry said, adding that 8 states and 4 UTs currently have zero reported active cases.
02:48 PM
Some passengers at IGI airport were seen wearing masks after the Centre issued Covid guidelines We should take precautions. I hope it doesn't spread like last time. Govt has time to prepare for its prevention. We were asked to wear masks inside the flight: Sreejita, a passenger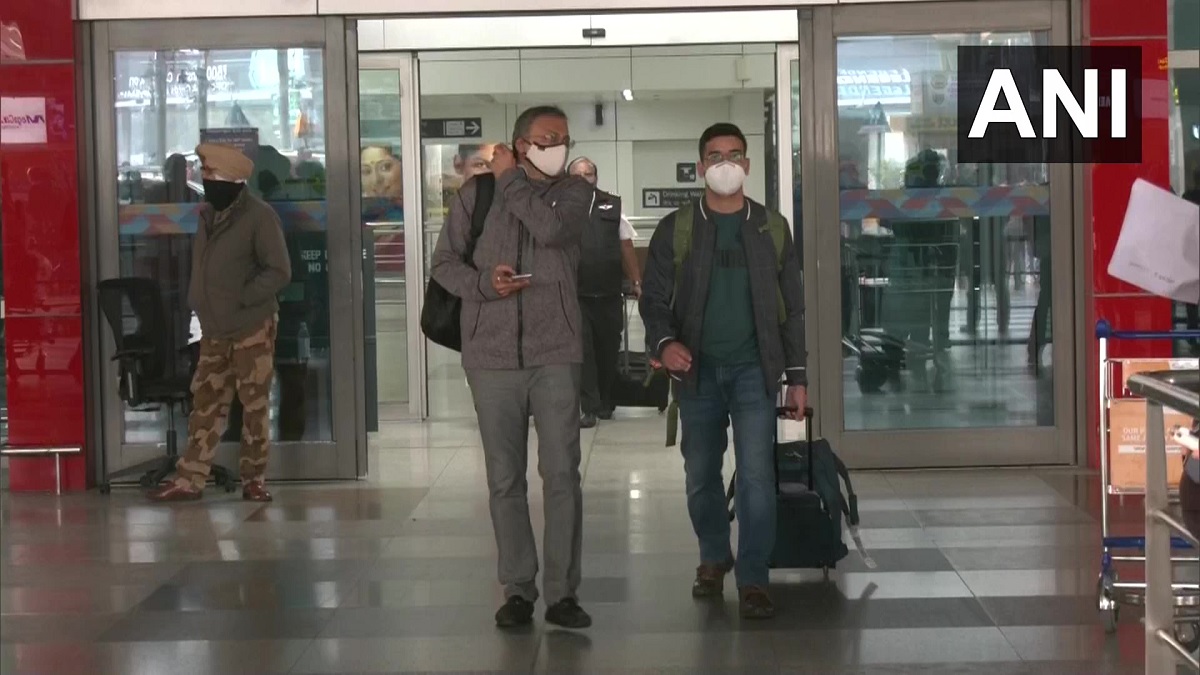 01:21 PM
Union Health Minister wrote a letter to Rahul Gandhi even before Indian govt declared medical emergency in the country, or discussed about the new Covid variant. There hasn't been much impact in India. But we should be alert: Congress leader Digvijaya Singh
Scrutiny of international flights & 100% thermal screening of passengers, especially those who are coming from countries where Covid cases are rising, must be done. Flights from countries including China with a spike in Covid cases should be banned.
01:19 PM
The Indian Army issued an advisory on Friday asking its personnel to take protective measures like using face masks, especially in closed and overcrowded spaces, and practising social distancing. The army also emphasized regular hand hygiene including hand washing and the use of hand sanitiser.
The advisory comes amid the rise of Covid-19 cases worldwide including China, Japan, South Korea and the United States. A close watch is being kept on the evolving epidemiological situation in the country and Indian Army, the advisory stated.
01:19 PM
Punjab CM Bhagwant Mann to hold a meeting with health department officials this afternoon to discuss the #COVID situation.
10:58 AM
Union Health Ministry to issue a new advisory for #COVID19 in view of New Year and upcoming festivals: Sources
10:58 AM
Govt of India approves Nasal vaccine. It will be used as a heterologous booster & will be available first in private hospitals. It will be included in COVID19 vaccination program from today: Official Sources
10:57 AM
A mock drill for emergency response to deal with COVID19 cases will be conducted in hospitals across the country on Tuesday, 27th December. Union Health Minister Mansukh Mandaviya will also visit a government hospital for the mock drill: Sources
10:57 AM
The focus of our government is to transform health care into holistic health care. Following the PM's vision of 'One Nation One Health', we collectively handled COVID. 220 crore doses of vaccine have been administered till this Monday: Civil Aviation Minister Jyotiraditya Scindia
09:47 AM
There is no need to worry about COVID-19, but there is a need to be alert. Everyone is advised to observe personal hygiene and those who have not taken the covid vaccine should take it immediately and take a booster dose: Telangana Health Minister Harish Rao
08:30 AM
Amid fresh global surge in COVID-19 cases, a public health expert from the Indian Medical Association (IMA), on Thursday, assured that the lockdown situation wouldn't arrive. Dr Anil Goyal from the Indian Medical Association said, "India needs to go back to COVID basics – testing, treating, tracing".
He further assured, "There won't be a lockdown situation in the country" and added, "since 95% of the people here are vaccinated". Speaking about the immune system of people, he further stated, "The immunity system of Indians is stronger than that of the Chinese."
08:29 AM
In view of the increase in coronavirus cases in several countries amid arrival of the new variant, the Karnataka government has decided to conduct mandatory Covid test of those with influenza-like illness (ILI) and severe acute respiratory infections (SARI), state Health Minister K. Sudhakar said.
Speaking to reporters, after a meeting on Covid management, Minister Sudhakar said, "In view of the increase in Covid cases in several countries including China, a high-level meeting was chaired by Chief Minister Basavaraj Bommai with technical advisory committee and senior officials to discuss about prevention and mitigation of infection in the state."
08:27 AM
China reported no new COVID-19 deaths for Dec. 22, compared with zero the previous day, the National Health Commission said on Friday. The country reported 3,761 new symptomatic COVID-19 infections on Dec. 22 , compared with 3,030 a day earlier. Excluding imported infections, China reported 3,696 new local cases, up from 2,966 a day earlier.
08:26 AM
The Uttar Pradesh government will formulate a fresh policy for the prevention and management of Covid-19 in consultation with the state-level health advisory committee, Chief Minister Yogi Adityanath said.
"With no fresh Covid cases in the state in the last 24 hours and the situation well under control, the changing trend of Covid should be closely monitored. Medical Education and Health Department should do preparations with better coordination. The new policy will be decided in consultation with the state-level health advisory committee."
08:25 AM
Prime Minister Narendra Modi chaired a high-level meeting on Thursday to assess the COVID-19 situation in the country and cautioned against complacency while laying stress on testing and strengthening the surveillance measures, specially at international airports. He emphasised COVID-appropriate behaviour at all times, especially in view of the upcoming festive season, including wearing masks in crowded public places.
08:24 AM
Ministry of External Affairs (MEA) said that India is keeping an eye on the Covid situation in China. "We are keeping an eye on the Covid situation in China. We have always helped other countries as the pharmacy of the world," said MEA Spokesperson Arindam Bagchi during a weekly press briefing.
08:22 AM
Union Health Minister Dr Mansukh Mandaviya will hold a virtual meeting with State health ministers on the Covid-19 situation and preparedness at 3 pm today. Prime Minister Narendra Modi on Thursday chaired a high-level meeting to review the status and preparedness of public health response to COVID-19 and emphasised the need for strengthened surveillance with a focus on genome sequencing and increased testing.
08:22 AM
We are prepared for COVID-19 but must follow the old advisory. Oxygen, PPE kits and ventilators are available in the hospital. People know what is to be done. Instructions have also been given to the health department for the same: Tripura CM Manik Saha
Jagran English brings you all the latest and breaking news from India and around the world. Get live English news from India, World, Politics, Entertainment, Lifestyle, Business, Education, Sports, Technology, and much more. Follow english.jagran.com to stay updated with the latest English news.
Copyright © 2023 Jagran Prakashan Limited.